For a few years now I've been meaning to make this delicious drink that takes me back to my childhood. It triggers wonderful memories of family get-togethers, relaxing in the summer sun on camping chairs in my Grandma's garden, the scent of roses in the air and eating lettuce sandwiches (not so wonderful)!
Not a care in the world, lots of fun and laughter, especially when the rest of our Irish relatives joined in. These are some of the memories I long to evoke and Elderflower Cordial somehow does this.
Baskets full of Elderflowers picked from our hedgerows
With a glut of Elderflowers, I decided I needed to strike before it would be too late and we would be into Elderberry territory.
Of course, I asked Andrew to join me in stripping the Elderflower of it's beautiful, delicate flowers, having a tall husband does come in very handy!
The sun was shining and the scent was exactly what I expected. Back I came with my baskets full to the brim and very pleased with myself, ready to start in the kitchen.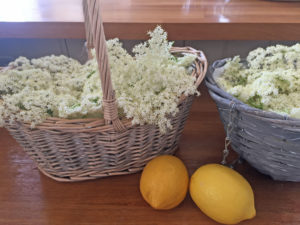 Homemade Elderflower Cordial Recipe. (Makes approx 2 litres)
Ingredients
1 1/2L of water
Elderflower heads stalks removed – about 35 heads
The peel of three lemons
Three lemons sliced
1kg of sugar
Recipe
Remove any bugs or dead flowers from your Elderflower cuttings, but don't wash them.
Heat the sugar and the water together in a large saucepan until the sugar has dissolved, take off the heat.
For the lemons, peel off large ribbons with a vegetable peeler and then slice the rest of the lemons.
Add the lemon slices, lemon ribbons and the elderflower heads to the syrupy liquid and stir.
Cover the saucepan with its lid or a tea towel and leave to infuse for 24 hours, preferably overnight.
The next day strain the liquid through a muslin cloth and pour into sterilised bottles and place in the fridge. The cordial will last up to a month in the fridge, you can also freeze it.
Creating your own elderflower cordial is actually very easy, it freezes well so you can bottle up in portions or add to ice cube trays, giving you a constant supply to enjoy with friends and family over the summer months.
We made two litres of this refreshing cordial so that we have enough for our Gite guests to enjoy this summer. Delicious with sparkling water, added to gin or add a dash into some sparkling champagne.
I even used the Elderflower syrup in the dessert we served to our guests on one of our Wine & Foodie Breaks. Local Gariguette strawberries soaked in the syrup, which were placed on top of mascarpone flavoured with Elderflower and then a biscuit and honey base. Please let us know if you would like the recipe.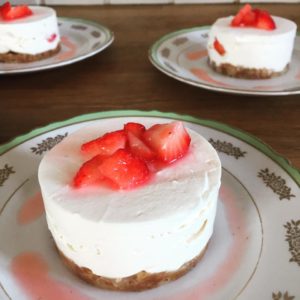 Making this cordial was a lovely way to spend a Sunday afternoon and this is definitely a family tradition that I will continue on into the future.
Do you have any delicious cordial recipes you have tried and loved? Please share in the comments below.